OUR KENNEL: BREEDING
AND S
ELECTION
We are a
family kennel
of the Pyrenean Mastiff and Jack Russell Terri
er
breeds
, we do not bred for an economic interest since the sale of puppies is not our livelihood, we breed because of our passion for these two wonderful breeds.
Our kennel is located in an agricultural area on the outskirts of Zaragoza and o
ur
objective is not to sell purebred puppies, but to raise quality puppies
, Pyrenean Mastiffs which are the satisfaction of their new owners and Jack Russell Terrier puppies who live a long and healthy life as a beloved family member.
We
believe that a breeder must be reliable, we
are in favor of a serious and responsible breeding, therefore we only breed with healthy breeding, to whom have been made the necessary health tests, so that future puppies are dogs equally healthy. We have few litters and we care for the welfare of our females.
Breeders of Pyrenean Mastiff

Our philosophy as breeders is based on select looking for Pyrenean Mastiffs that besides beauty to be excellent show dogs, are healthy, resistant, have balanced character, agile despite its impressive size, vigilants and calm, that is they can fulfill the role of trust
guard dog
that have traditionally had.
Breeders of Jack Russell Terrier
As Jack Russell Terrier breeders our philosophy is based on selecting beauty, health and character, preserving the authenticity of this exclusive race.
Our lines of Jack Russell Terrier for generations have proved sweet personality, self-confident and stable, that are not fearful or nervous but kind to dogs and people, they get along very well with children of the family and are tolerant with them.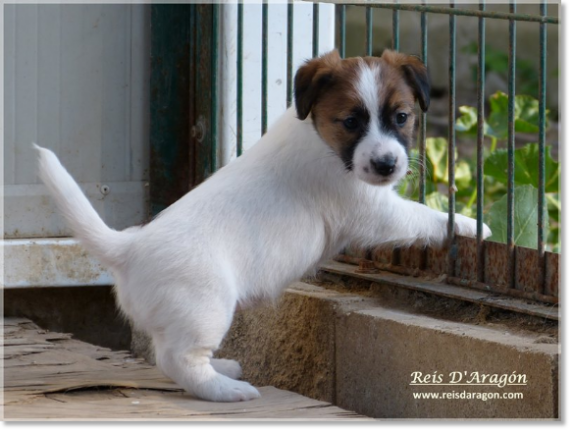 We try to have reproductive who are good breeders, of very good quality and genealogy, having good aptitude for breeding, to transmit to their offspring the typical characteristics of the breed, our litters are the result of generations of breeding and selection.
We consider long each crossing we do, studying the specimens as a whole, both in its exterior and interior, so one feature that is very important for us is their character; we value this aspect over the trophies, the specimens of our breeding preserve the noble and courageous temperament that has characterized for centuries to dogs of the breed Pyrenean Mastiff.
We love our dogs, we consider them members of our family, we care about their health and try to provide them with a happy life. They have a large area with open kennels, closed only when circumstances require it, in this way they live and do so in perfect harmony.
We
breed
our puppies
with loving care, being aware of their care and cleaning, watching out their health, always procuring them the best and are under veterinary supervision from birth until the delivered.