BUYING A PYRENEAN MASTIFF PUPPY
Before buying (adopting or giving as a gift) a Pyrenean Mastiff puppy, you must consider that it is a commitment for the coming years, in addition to the purchase price it will cause expenses, responsibilities and dedication. Pyrenean Mastiffs are affectionate companions and faithful guardians, we must learn about their characteristics and needs to ensure that they are the right breed for us and will continue to be when they are no longer a puppy. Finally, we must be careful when buying our puppy, many frauds are hidden behind the advertisements for the sale or gift of puppies on the internet.

Before you think about buying a
large breed
puppy, you can assess the option of adoption. There are many large m
astiffs
that, for many reasons, need a new home and can
make
wonderful pets.
First, before considering purchasing or adopting a
large breed
dog that will become a member of the family for the next years, we must be aware of the responsibilities it entail, we will have to feed him, take him out to walk, go to the veterinary, take care of his education, find a suitable place for holidays, etc.,
in addition to its acquisition price, it will cause economic expenses and it will be necessary to dedicate time to it.
We must be sure that we want to share our life with a mastiff dog and that we will be able to take care of it for years to come.
The next step is to choose the dog that best suits us, our way of life and the conditions in which it will live. Each race has its own physical and psychological characteristics (size, temperament, needs...), we must select a breed of dog that is compatible with us. The result will be that both we and our pet will be happier
during the years that
we live together.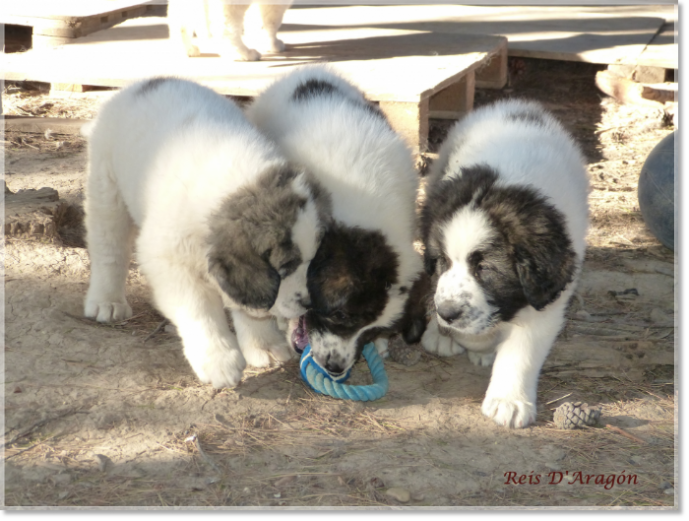 Is the Pyrenean Mastiff the right breed for me?
The Pyrenean Mastiffs:
They are vigilant dogs, good guards and deterrents.


They are animals loving and balanced that do not present coexistence problems, but have some character, they cannot be handled as a small dog, so you should not neglect the discipline.



They love children but do not spend much time interested in their games

They need us to show them our affection

In the case of the Pyrenean Mastiff breed think that this is a very large dog that
has needs related to its size:
Takes up a lot of space and prefers to be outside


You will need a large garden for him to do a little of exercise and that his presence doesn't make us uncomfortable,




You should think about how you will take him to the veterinary or on vacation,

you will need enough space in the car and it can be difficult to use public transport



It must be brushed regularly, which takes time considering its size

You will need a good diet whose cost will be added to our monthly budget

I want a Pyrenean Mastiff
If you are sure that this is the race that you like and is suitable for you and your family, you should know that it is not easy to find a Pyrenean Mastiff puppy purebred because it is a rare breed and there is not a large number of them, according to data published by the RSCE, in 2018 were enrolled in Spain only 132 specimen, 151 in 2019 and 78 in 2020. So, surely you must be patient because your search may take some time.
We recommend looking for a purebred puppy from
a specialized, serious and responsible
Pyrenean Mastiff
breeder
, it is the option that offers the best guarantee that you are getting a good m
astiff
, as you know its origin and genealogy, with available information on the characteristics of the race, their possible physical and psychological development, size, etc.
The pedigree is the way to verify that the dog is purebred. For a puppy to have an official RSCE pedigree,
the breeder must register it in
the LOE in the first period of his life.
Choosing your Pyrenean Mastiff puppy
For a
Pyrenean Mastiff
puppy
to be
healthy and balanced it is very important who are his parents, where and how the puppy has spent his first months of life, the care that has
received
and how has been the socialization. Do not buy a
Pyrenean Mastiff
puppy less than two months old, the risk of health complications is great.
Make sure
of the origin of the large mastiff puppy
, many dogs come from "macro-farms" or are imported illegally, in many cases
they are mixtures of similar large breeds
, there is no control over them, with forged papers, have been mistreated, have traveled overcrowded and in terrible conditions, reach malnourished, eaten by pests, with problems of socialization and also sick, bringing infectious or hereditary diseases.
An acquisition of this type can cause many problems to the buyer, the probability that the animal has health or behavior problems is larger, and unwittingly you'll be fomenting these "puppy mills."
Take some basic precautions with advertisements of puppies for sale, the
Internet offers many advantages but is also an open door to fraud and risk, make sure
that the photos of the Pyrenean Mastiff puppy
are real and beware of scams, be wary of unusually low prices or
puppy gift offers
paying
only
the
shipping as it may be a scam.
Finally, if you find a good puppy of this breed and become the owner of a Pyrenean Mastiff, you will have a loving companion and a faithful guardian, whose coexistence will certainly give you great satisfactions.